I didn't know what to expect when we arrived in Morocco.  They only knowledge I had about the place was from our friends Dave and Tania who had went there for a day trip last year from Spain.  Dave's recollection of Morocco wasn't the most pleasant as he said the smells and culture shock were a little harsh (this was after getting sea sick from the ferry ride).  With that as my "background" I was a little nervous to say the least. 
We arrived via ferry from Spain to a port town called Tarifa and after getting off the ferry we were approached by aggressive taxi drivers asking if we needed taxis (lucky for us we had experienced this type of aggressive behavior in numerous other train stations and airports).  We declined as our first order of business was money.  We saw a bank machine just on the far end of the port and proceeded to withdraw some dirhams (Moroccan dollars) for the rest of our journey. 
Success at the bank machine (Yay …  one worry off my list).  I don't know why but I have been paranoid throughout this whole trip that one time the bank machine will NOT work and then were stuck in a foreign country with no money. 
We then grabbed a cab to the train station to get to Fez.  The train station was brand new just opening in August this year and it was very modern.  After getting our 1st class tickets for our 5 hour train journey, we proceeded to the train.  I was a little curious when we were getting on the train as to why our family were the only ones at our rail car.  Everyone else were at the other end of the train.  Well I guess first class is not a preferred option to Moroccans as we were the only people in the whole car.  We settled down for our long journey and enjoyed the views of Morocco along the way.  The first class car was nice but not elegant.  We chose first class so we could sit together.  There was no reserved seating in second class.  
When we arrived in Fez we found a man holding a sign that said "Kim VanKosh." This man handed us off to our driver and we proceeded with our belongings to our first Riad (A Riad is a small hotel/bed & breakfast that has about 4 to 8 rooms and a large common area with a fountain).  Our driver then handed us off to a third man who led us to the Riad.  It was around some pretty narrow corridors and we would probably not have been able to find it on our own.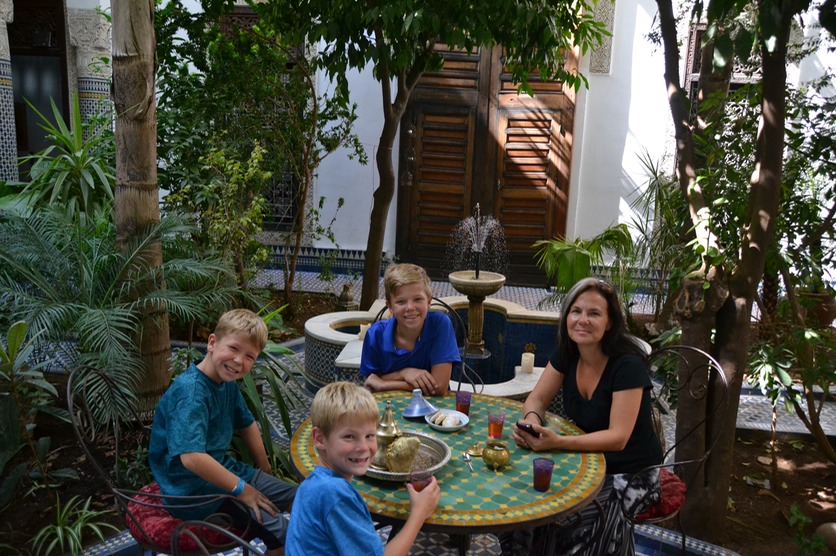 We got inside of our Riad and WOW it was beautiful.  There were very intricate carvings for doorways and the most beautiful carpets all over.  Our room was very nice with a post bed with drapes all around.  Upstairs on the roof was a patio and we could see all around Fez. 
First things to have when we got there was the tea.  Everywhere you go you have to have tea.  The owner of the Riad poured us some mint tea (very traditional in Morocco) and it was fantastic.  We all sat around enjoying the beauty of our first impressions of Morocco.  Not knowing where to go for dinner our host asked us if we would like to have dinner at the Riad and we agreed. 
WOW #2.  That was a great choice.  We had Chicken Tagine (a traditional dish cooked in a clay pot with herbs, spices, potatoes, and vegatables)  and Pastilla which was a baked meat dish with a sweet pastry.  Yummy for our first introduction to Moroccan food.  One thing to remember that Moroccans like the Spanish and French don't typically eat until later in the day (8 to 10 pm)  After our dinner (which was way too much food for us) we went to bed in anticipation for our journey to the Sahara.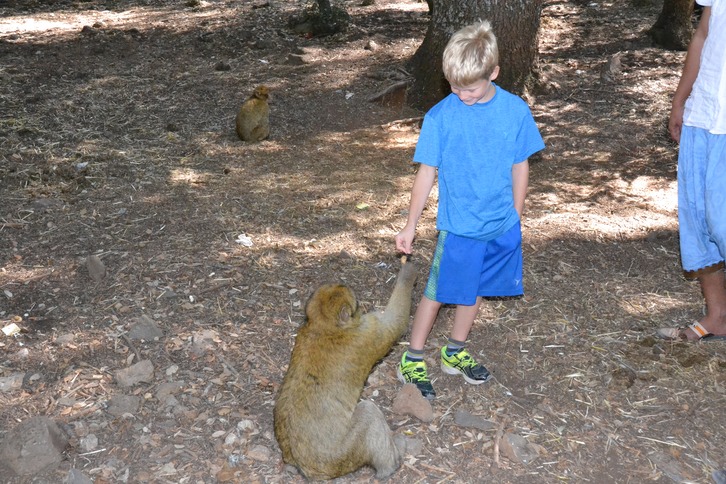 The next morning after breakfast at our Riad, (another great meal) we packed up and met our guide for the week (his name was Moha).  On this day we were to travel to the outer edge of the desert via the Atlas mountain.  Moha is a great guide and made the kids feel really comfortable right away.  He kept asking Kim for directions as he had her pegged as a planner right away.  We proceeded to the foothills of the Atlas Mountains where we made a short stop to see some apes near the cedar forest.  The kids had a great interaction with the apes and the topography was fantastic.  We then continued towards the desert.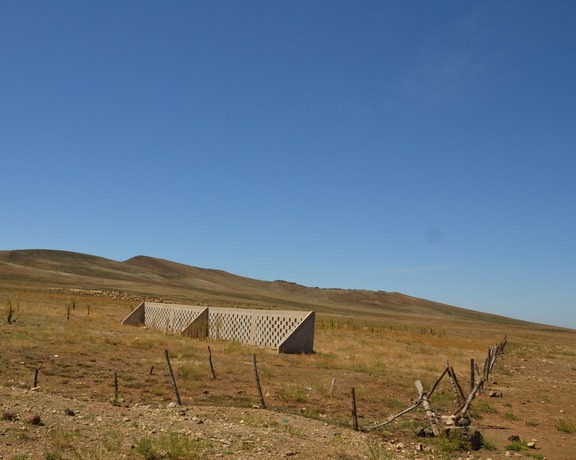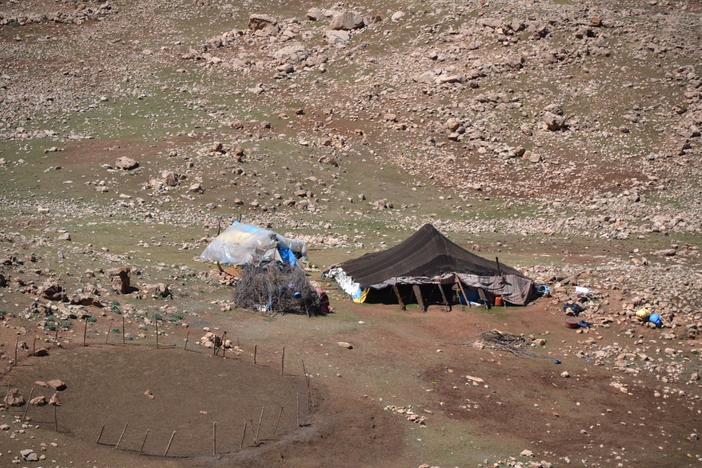 We saw some interesting things on our drive.  We saw snow fences in the higher upper Atlas ranges that were permanent so the roads are passable in the winter.  The nomads tent villages were curious; huge tents for the nomads to live in while they tend their sheep.  Also, when driving for long stretches without seeing another soul you look out into a barren landscape and see some sheep and a little tree with a sheep herder looking at his cell phone in the shade.  They have cell service everywhere in Morocco.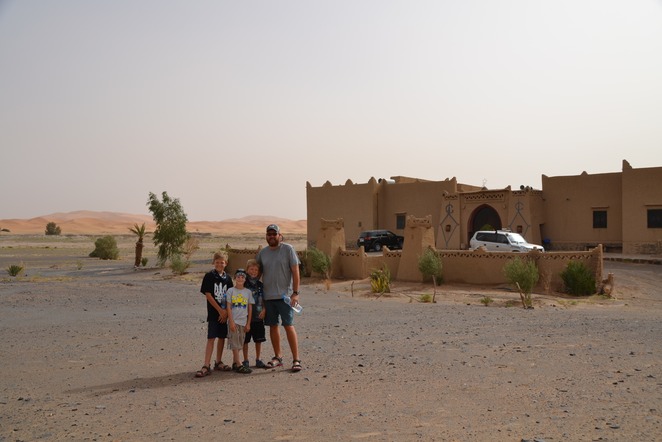 We arrived at our home base for the next 3 days at the outskirts of the Sahara desert at dusk.  This Riad was amazing.  While drinking our tea, Jaxon made the comment that he felt like a billionaire.  The Riad owner was outstanding and made us feel like his home was our home.  There was a large patio where we could have room to relax and for dinners and breakfast we ate in the garden terrace area.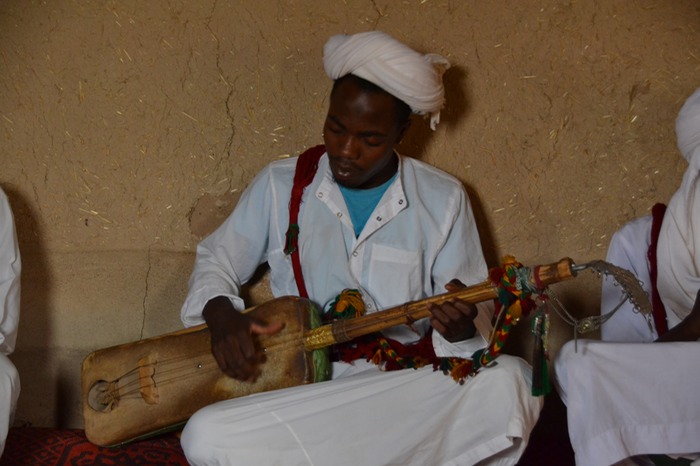 We got up, had a great breakfast, and proceeded to go on a half day tour to meet with the berber people and visit a local village for some dancing and music.  The dancing and music was great (after having some tea to start off of course) and we had a great time interacting with the locals.  We were driving through the desert and saw a nomad berber hut in the middle of nowhere and Moha decided to stop.  We got our and proceeded to visit with the local family (and have tea).  The home they lived in was made of mud and straw and was probably 300 sq ft consisting of a cooking room, a common room (no furniture just a low coffee table and carpets on the ground to sit on around the coffee table).  The parents and four kids all ate and slept in the same room.   Our guide told us that every single day twice a day they walk 5 km to get water for their cooking and washing needs.  It was quite the eye opening experience.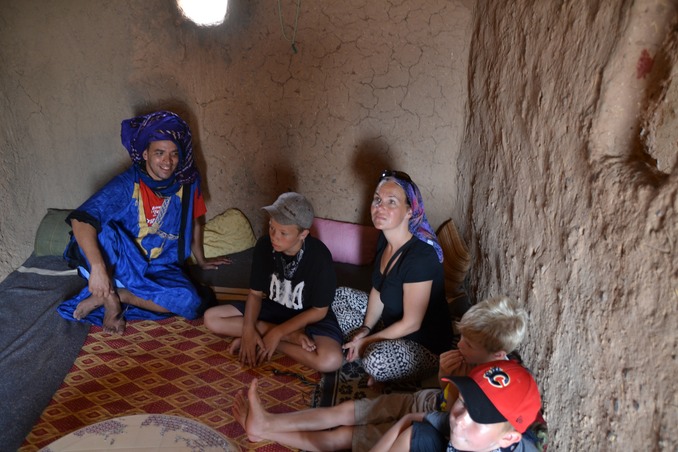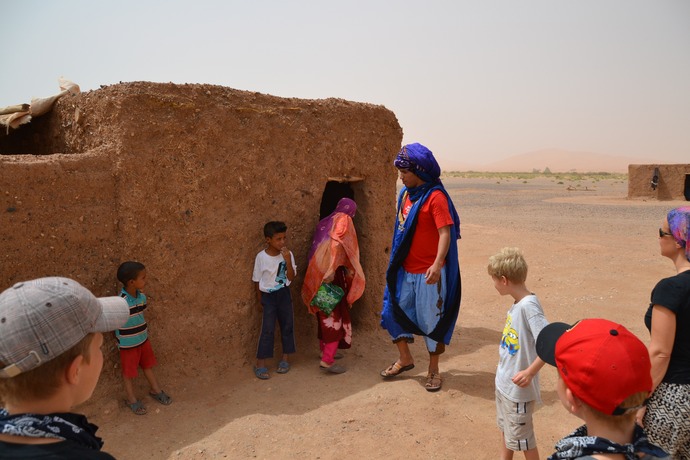 That afternoon we went back to the Riad for a siesta and then prepared ourselves for our camel trek to the desert for an overnight adventure.  In our earlier travels that day it was advised to us to get some head wraps for the desert trek as the winds and the sand can be unpredictable.  We all looked like authentic camel jockeys with our headgear on and it made it feel more authentic. 
With our headwraps on and our backpacks packed we went our to meet our camels (dromedaries actually) I was very excited but not even close to how excited as the boys were.  There was a lot of conversations throughout the day with our guide and someone on the phone about Jaxon going on the camel.  I don't speak Arabic but funny enough you can figure things out with tones etc.  Jaxon wanted to ride the camel himself but it seemed that the guides were unsure.  They decided to let Jaxon try since we told them he rides horses in Canada quite a bit at our summer camp.  When we counted 5 camels, Jaxon got extra excited because he knew he was going to ride a camel by himself.  We all hopped on and proceed on our 5 km (1 ½ hour) trek to the sand dunes of the Sahara.  At the beginning, it was awesome as the excitement was building and we were enjoying ourselves. 
Remember I said at the "beginning", well fast forward to about minute 45 and Kim and I were about done with the whole "riding the camels".  If the guide (who was walking by the way in bare feet) would have offered us to walk I'm sure we both would have said "YES".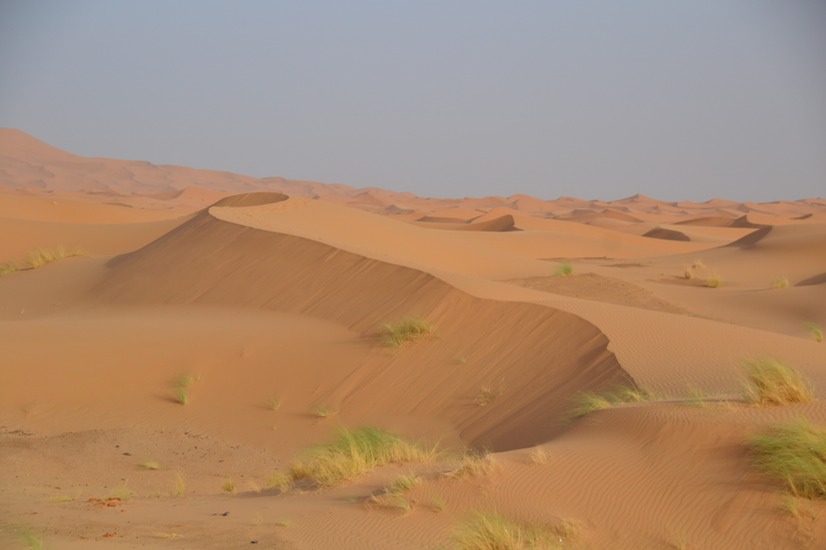 As we got deeper and deeper into the desert there was less and less trees and then nothing but sand dunes.  Were talking REALLY big sand dunes, the size of mountains.  And steep as well.  The colors of the sand dunes were amazing and the difference shapes with the different colors were like nothing I have ever seen in my life.  I tried to take a bunch of photos but imagine trying to take picture on top of a bucking bronco without dropping the camera.  Hopefully, some have turned out great as I would love to blow them up larger and frame them for the house.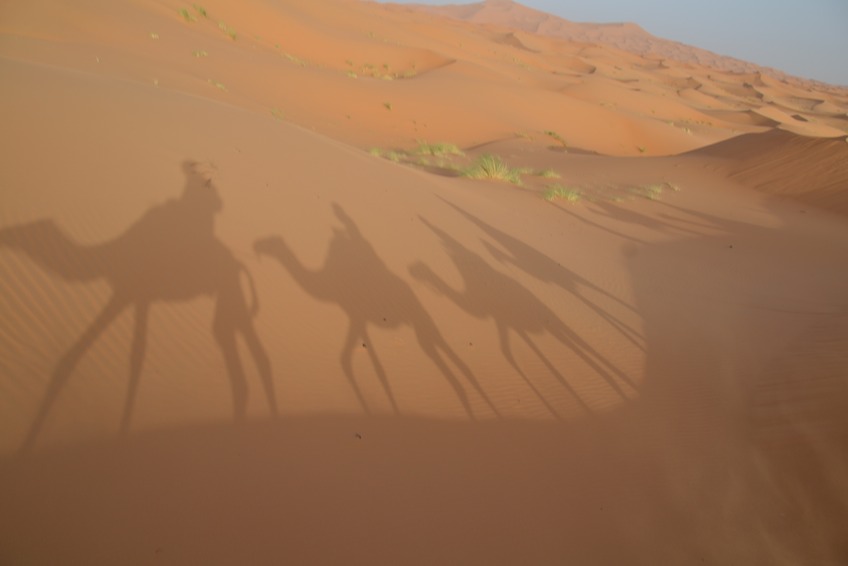 When we finally arrived at the camp it was at the bottom of a very large dune and there were 3 sleeping tents and an outhouse tent.  Surrounding the campsite was some vegetation (the most we had seen in about an hour) and the whole campsite was surrounded by a fence (that looked like it was electric but wasn't).  I asked what it was for and the answer wasn't what I was thinking (animals).  It was to keep the off-road Rally people away from the camp area with their bikes, quads and 4X4's.  I guess this is a problem even though we didn't see any trails at all.  The boys immediately climbed to the top of the mountainous dune and one of the guides pulled out a snowboard.  The boys rode the board down like a toboggan and had a blast.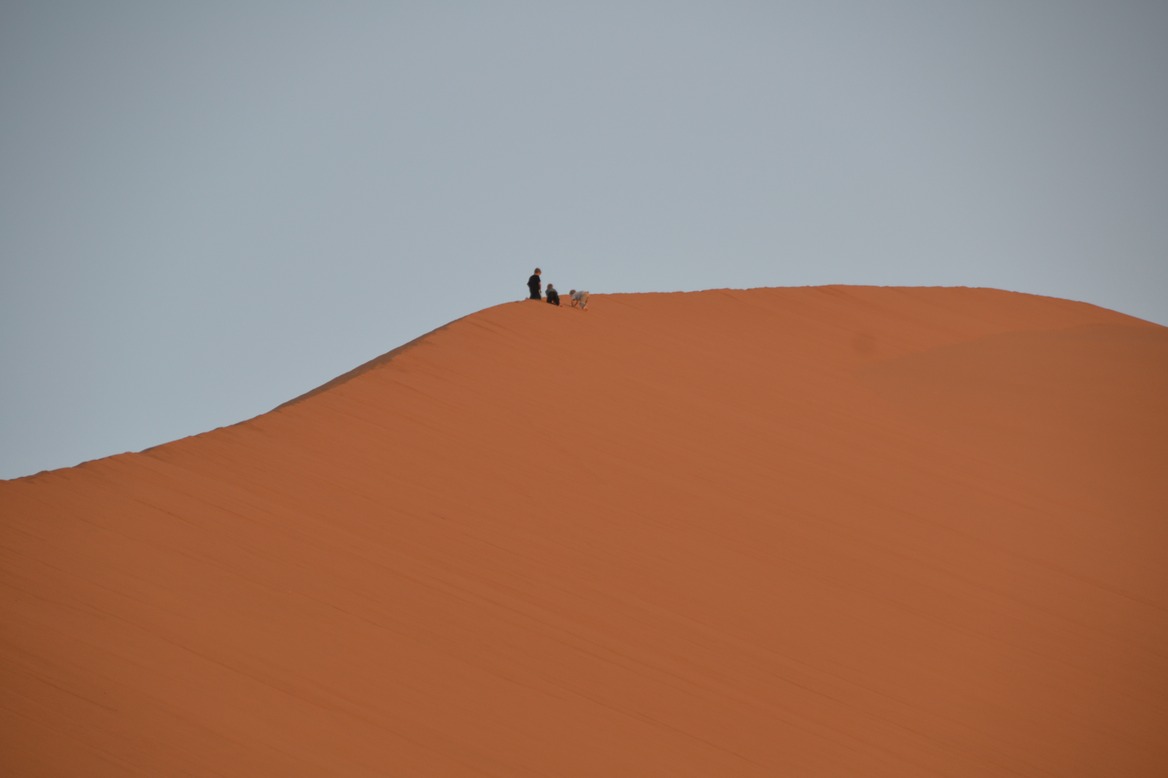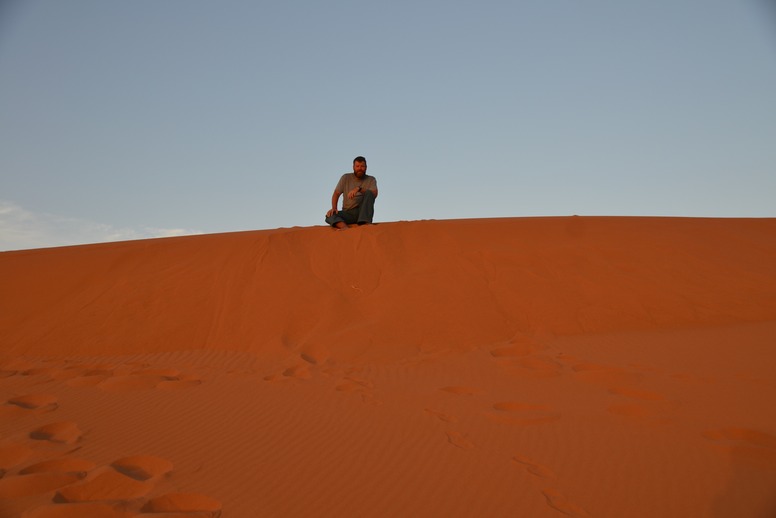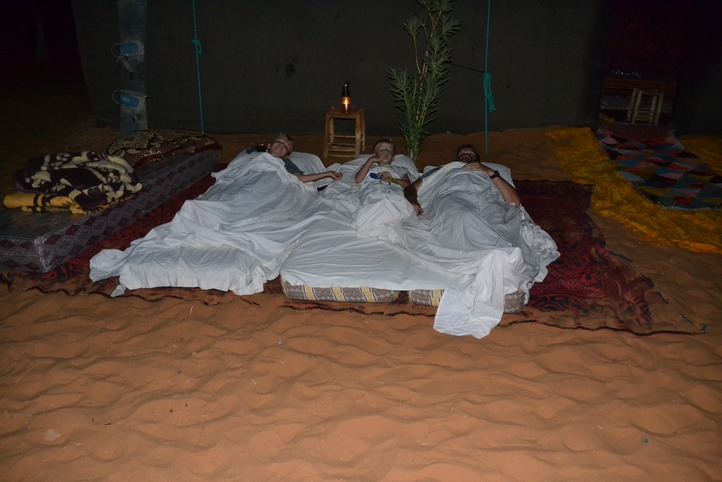 We hung out on the sand dune until sunset.  Sunset was even more beautiful than the ride out as the colors of the dunes changes over and over.  After the sunset, our dinner was ready at our campsite.  Again, with ALL the food, we ate as much as we could but left a pile on the table.  The guides pulled out drums and instruments and they played traditional music with the boys and taught them how to play the drums.  
At bedtime, Jaxon, Nathan, and I decided to sleep outside the tent for the night as the stars were amazing and you don't get this opportunity to sleep away from civilization with a complete clear night without bugs very often.  Kim and Quinn slept in the tent as Quinn's stomach was quite upset from something he ate.  We sat up for hours staring at the stars, constellations, and shooting stars in amazement but finally fell asleep.  
Early the next morning, we were woken by our guide for sunrise.  We climbed back to the top of the dune and watched the beautiful sunrise.  We then packed up and got back on those damn camels.  The ride back was very uneventful but still beautiful.  I would recommend this experience to everyone.  Morocco was a beautiful country full of beautiful, kind, authentic people. 
WRITTEN BY TOM