Uluru is a very popular destination for tourists. Over 100,000 people visit a year.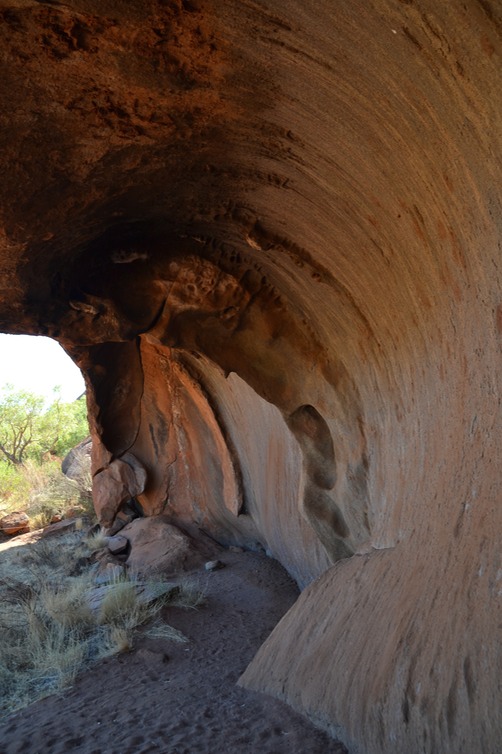 Uluru is a massive rock in the middle of Australia. This rock stands 300 m over the desert floor and is 9 km all the way around. An aboriginal tribe called Anangu owns the rock. The giant rock is made up of arkosic sandstone and has vegetation growing on it and some around it. According to the Anangu tribe the seasons around Uluru are not your normal seasons. The names are not hot, hot, quite hot, and extremely hot.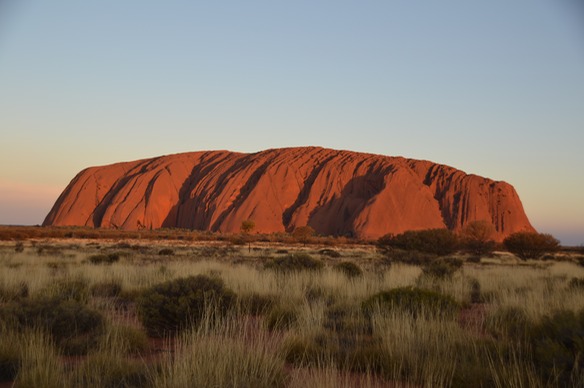 Uluru's layers are on side like a book. This is because Uluru was once surrounded by water and sat with its layers up and down. The water pushed it over. Leaving only a small one third of in out and made it on its side.
Yawn, I had a good sleep. We were in Australia.  My heart was racing.  I was going to Uluru or Ayers rock today. It was a 6-hour to get there. I was looking out of the car and the soil was red. When I was walking outside there was so many flies. We rented a motor home. It was so shocking that there are still green trees. I noticed that Uluru changes colours. Only a small bit of Uluru is above the ground.  Most of it is underground.
How big is Uluru?
Uluru…
•   -  is 348 metres (1141 feet) high
•   rises 863 metres (2,831 ft) above sea level
•   is 3.6 km long (2.2 miles)
•   is 1.9 km wide (1.2 miles)
•   is 9.4 km or 5.8 miles around the base
•   covers 3.33 km2 (1.29 miles2)
•   extends about several km/miles into the ground (no-one knows exactly how far)
FACT: Uluru is better known as Ayers Rock; it named by William Gosse in 1873 after Sir Henry Ayers. Uluru is the Aboriginal and the official name.
FACT: The rock was created over some 600 million years, and the Aborigines have been in the area for the last 10,000 years. It originally sat at the bottom of a sea, but today stands 348m above ground. One of the most startling Uluru facts however, is that some 2.5kms of its bulk is underground.
Made by Jaxon

Whoosh! That's the sound of me wiping the sweat off my forehead. The heat blazed down on me. Going on a hike in 40 degrees is not the best idea. We are hiking around Kata Tjuta. But the walk was worth it because the view was amazing. The difference between Uluru and Kata Tjuta is Uluru is one rock and Kata Tjuta is lots of rocks that are not connected. You could hear the wind blowing throw the cracks. The next day we woke up at 5:30 am to see the sunrise.  Uluru was beautiful as it changed lots of different colors. Purple to orange to lots of different shades of red but there was so many people. Soon after, we saw wallabies (like a kangaroo) jump across Uluru while we waited for our tour guide. In some parts of Uluru you were not allowed to take pictures. Then we headed to Alice Springs returned the motorhome and headed to Cairns.