Our overnight train from Krakow to the Ukraine was an experience we don't need to relive.  This is how the night went.
8:45pm – Board train, we are in 2 separate rooms with Kim, Nathan, and Jaxon in one room with 3 bunks and Tom and Quinn in another room with 3 bunks.  They share the very small space 5 ft wide and 6 feet long with a fella from Switzerland who didn't own deodorant but was very nice to speak with.  
11:00pm -  Attempt to go asleep BUT I'm thinking our Polish train engineer was either drunk or enjoyed rolling people off the beds with the sudden braking.
1:00am – Someone knocks on the door to tell us something.  But they only speak Ukrainian so I have no idea what he says.  When I say "English?"  He says "Ok" and walks off.
1:40am - The train rails are a different size in the Ukraine from Poland so they need to change the wheels on the train.  This involves lifting the train, rolling the existing wheels away, rolling new wheels under the train and then dropping the train on the new wheels.  This whole process takes about an hour or two.  And of course is not a quiet process.
2:15am – Polish custom agents come on train to check passports.  Of course, the kids are sleeping but need to be woken up so the agents can see their faces.
3:30am – Wheel changing process is complete.
4:00am – Ukrainian customs board train to check passports.  They don't need to see the kids faces but they take the passports with them.
5:00am – Passports are given back and we finally get to go asleep. 
6:00am (which is now 7:00am Lviv time) – Porter knocks on the door to say we arriving soon so we need to wake up.  Thank God … I got that one hour of sleep.
6:30am – Arrive at station (7:30am Lviv Time)
7:30am – Attempt to take taxi to our apartment.  But no one speaks english.  Taxi driver takes us to a car that appears to be too small to fit the five of us.
7:40am – Try another car which is slightly larger than the last car but not by much.  We all fit.  Four of us in the back of a car really meant for three.  We don't care.  We just want to get to the apartment.
8:00am – No apartment yet.  Driver gets lost taking us to the apartment and stops to ask another taxi driver where he should be going.
8:15am – Finally arrive at apartment.  Pay driver.  Meet host who takes us up a scary looking staircase that looks like it hasn't been maintained since Stalin was in power.
8:20am – Apartment is stunning inside.  We love it but we are all very tired and go to sleep for about hour.
The Ukraine was Quinn's pick for a place to visit.  We decided on Lviv since it is far enough from the unstable environment of Kiev and Eastern Ukraine.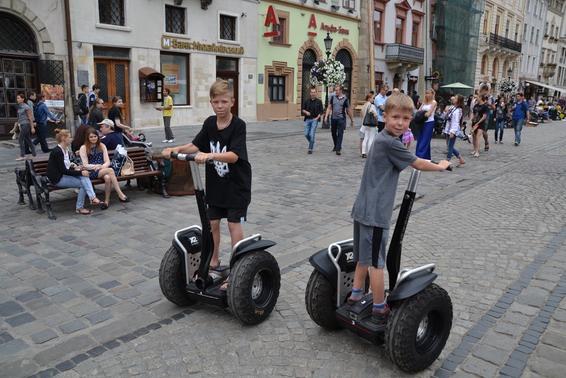 Lviv is quite a bit different from the other places we have visited so far.  Very very little English is spoken and some things are just weird. 
I don't think they have any rules in this city.  Quinn and Nathan were over the moon that they could rent segways to ride around the main square.  No helmets needed or even available.  The other places we have visited you had to be at least 15.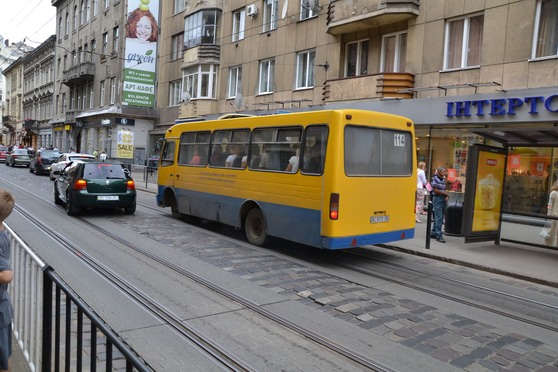 The old mixed with the new was everywhere.  Old cars parked beside brand new cars.  Old decrepit building next to beautiful restored buildings.  Old babas in their kerchiefs next to young women carrying Prada.  Old babas using iPads. 
Everything in the Ukraine was super cheap.  I had to keep redoing the math because I thought my calculations couldn't be correct.  We would go out to eat dinner and it only cost about $15 Canadian for all five of us.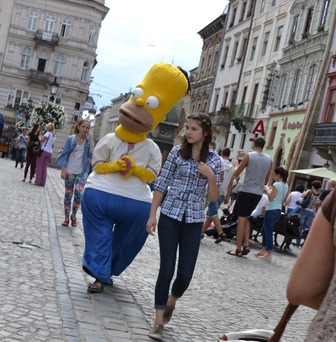 Best things about the Ukraine
Worst things about the Ukraine
Not being able to understand anyone
The train ride.  See details here. 
Funniest thing in the Ukraine
Homer Simpson wearing a Ukrainian shirt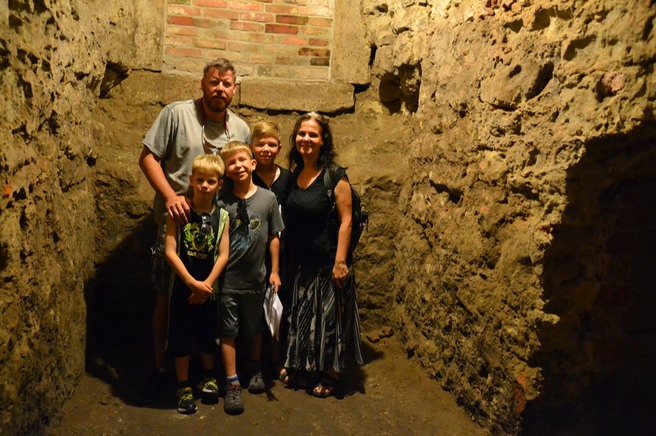 We went on a great tour.  Our guide showed us the main sites around the main square.  We saw the Pharmacy Museum, Coffee Mine, Dungeons, Jesuit Church, 13th Century city and unexpectedly came across a movie being filmed.
My favourite was the area under the Jesuit Church.  It was one of the most genuine places I have ever visited.  There were different layers underneath the church.  The first area was thought to be from the 16th century.  The last area was thought to be from the 13th century.  Excavators believe it was the first level of actual civilization in Lviv.  We stood in what they think used to be a house from that time frame.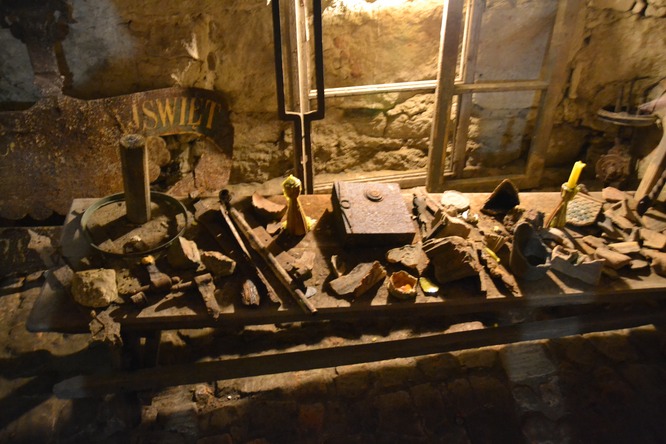 They had some of the ancient artifacts just laying on a table.  It was genuine in the sense that it wasn't set up in a professional touristy manner.  It is great to see a location that was not really disturbed.