The thought of deciding what to pack for nine months can be overwhelming.  Since I believe in not reinventing the wheel, I researched different websites to determine what to bring (Everyone who knows me knows that google is my BFF).  It was a great starting point and provided a few ideas that I wouldn't have thought of, oral rehydration tablets for example (Tom thinks I'm being a little too careful but you never know … always be prepared).
We are each taking one backpack.  Tom's is a 70 litre, mine is a 50 litre and the boys are 30 litres each.  Having said that we aren't stuffing them till they are filled because weight will then be an issue.  And Tom knows that at times he will be carrying them (hence the Sherpa moniker).
In the end, we went with common sense.  This is our packing list.  It wasn't until I wrote it all down that I realize all the stuff we were taking with us.
Kids
4 – T-shirts
3 – shorts
4 – underwear
4 – socks
2 – track pants 
One each of the following:
long sleeve shirt
hoodie
dress shirt
bathing suit
water shirt
nice pants
sweat pants that double as PJs
raincoat
travel towel
sleep sheet
running shoes
sandals
baseball cap
Kim
4 – T-shirts
3 – tank tops
2 - nice shirts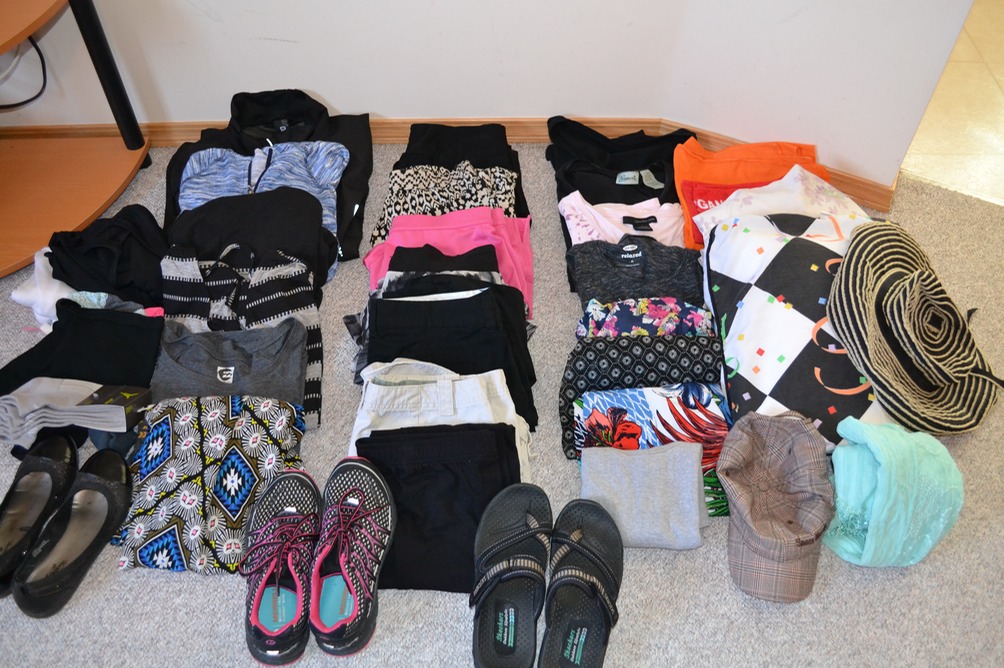 2 – shorts
4 – underwear
4 – socks
2 – pants
One each of the following:
Long skirt
Skort
Dress
long sleeve shirt
hoodie
nice sweater
bathing suit
raincoat
PJs
Scarf
Sarong – double as towel
sleep sheet
running shoes
sandals
baseball cap
sun hat
travel pillow
Tom
 4 – T-shirts
2 – dress shirts
4 – underwear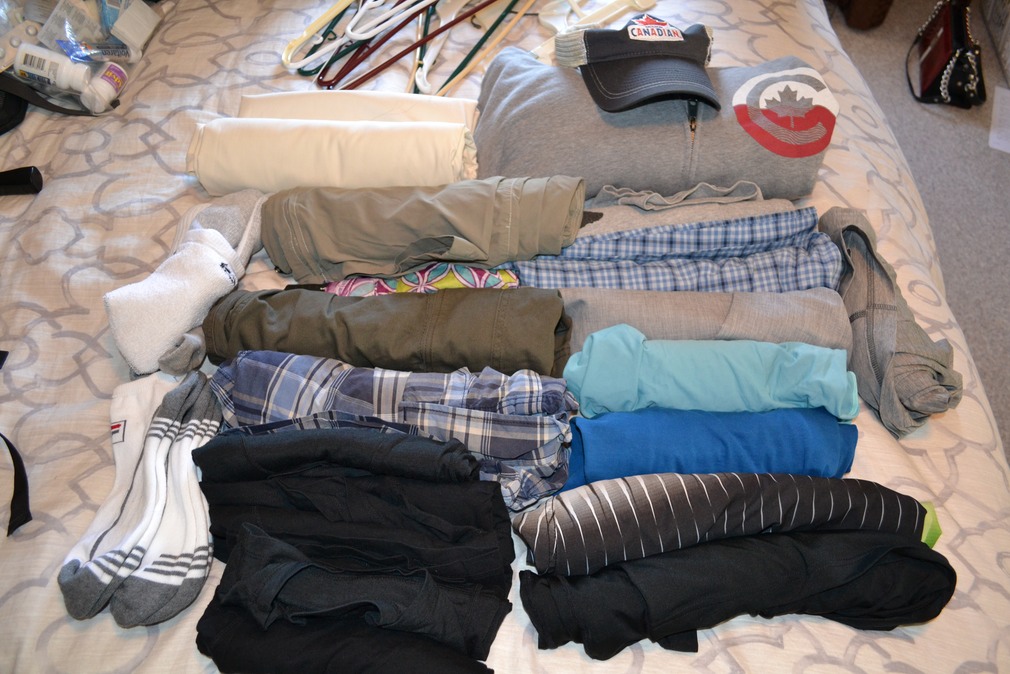 4 – socks
2 – pants that also have zip off shorts
One each of the following:
Shorts

long sleeve shirt

hoodie

bathing suit

water shirt

raincoat

travel towel

sleep sheet

running shoes

sandals

baseball cap

Sense of humour

pound of patience
Medication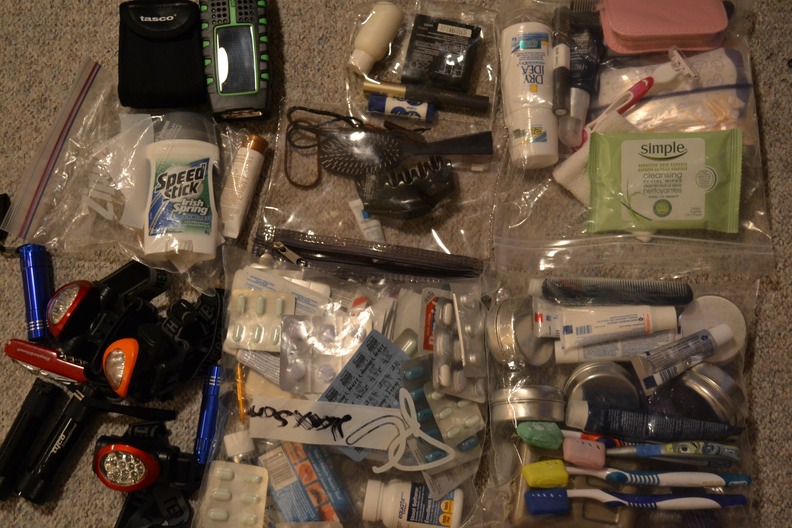 Adult Gravol
Kids Gravol
Transderm-V patches
Ginger capsules
Kids advil
Imodium
Cold and cough medication
Muscle relaxants
Oral rehydration powder
Constipation medication
Voltaren - Topical muscle pain reliever
Hand sanitizer
Medical Kit Containing

Medical tape
Band-aids
Thermometer
Antibiotic ointment
Cotton pads
Alcohol swabs
Technology
Camera
Laptop
IPads filled with learning apps, games and books
IPhones that were unlocked
Earbuds
Noise cancelling earphones
Ereader
External hard drive
Flash drives
Chargers
Adapters
Toiletries and Other Stuff
Soap
Toothbrushes
Toothpaste
Lush shampoo
Deodorant
Q-tips
Shaver
Comb
Feminine hygiene products
Umbrella
Stain remover – we do have 3 young kids
Smart Klean Laundry ball - One ball the size of a softball will do 365 loads of laundry
5 headlamps
luggage scale
swiss army knife
binoculars
2 flashlights
Copies of passports
Bladder type water bottles
School stuff – pencils, pens, paper, erasers, geometry set
Toys – travel games like Sorry, Uno and Farkle.  Also an awesome fabric balloon ball.  It is just a piece of fabric but place you blow up a balloon inside and it turns into a ball.  Thanks to the Gillespies for giving it to us.
There is all is packed up.  Our life in backpacks for the next nine months!!!